A View from Europe
Taken from the foreword to the book by
Jorgen Richter
Directorate General XIII
Commission of the European Communities
Brussels
Europe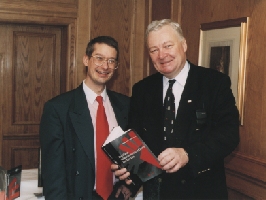 Photograph courtesy of Richard Lambley, Land Mobile Magazine
Without frequencies, no services. Without high technology radio platforms, no future proof terminals. Without open standards, no multi vendor market and no intense competition. These three cornerstones formed the basis for the initiatives launched by the Commission since the eighties. Regarding frequencies, a Directive was adopted regarding the radio platform, the DECT technology was preferred. Regarding competition, ETSI was mandated to elaborate open European Telecommunication Standards.
So where has this brought us now?
It is a pleasure to note that DECT has proven to provide extremely effective communications (more than 10,000 Erlang/km2), high speech quality, and short as well as long range coverage (the latter by using the DECT repeater concept).
A number of core standards have been turned into the European Regulatory Type Approval regime so the free make forces can work to the benefit of the users. Cordless telecommunication has been turned into a quality consumer product commodity and indeed a minimum quality has been guaranteed due to the obligation laid down by the civil protection codes, i.e. emergency calls must always be successful.
The European re-regulation of the telecommunication sector has been done under the objective to cast the right balance between free competition on the market, effective use of the spectrum, a minimum regulatory regime and still allowing for innovation regarding new supplementary services and early introduction of new equipment.
The European cordless policy is therefore now being seen by many as offering the right solution at the right time: The DECT is therefore today an acronym for Digital Enhanced Cordless Telephony.
Decisions makers throughout the world can indeed benefit from this concise and comprehensive book edited by Dr Tuttlebee. The book will contribute to increased transparency in the cordless market. It provides for a platform upon which issues like economies, tariffs and operating costs can be addressed, and thereby the different technologies can be compared.
The initiative taken to publish the state of the art on Cordless Telecommunication in a global context matches ideally the globalisation trend in telecommunications.