Books relating to DECT and other topics in cordless telecommunications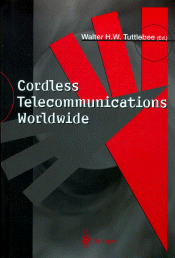 "Cordless Telecommunications Worldwide" is the comprehensive reference work (536pp) for the cordless telecomms industry, embracing technology and commercial issues.
The book includes several chapters explicitly devoted to DECT standards, access profiles, implementation, etc as well as many other chapters describing the fundamental principles of digital cordless telecommunications, commercial / market issues, industry development etc. Published by Springer Verlag 1997. Ed. WHW Tuttlebee. ISBN 3-540-19970-5. 536 pages.
See our special offer for DECTweb visitors - from where you can visit the book website which contains a detailed contents list and prefaces from well known industry figures from Europe, Asia and North America.
"Personal Wireless Communication with DECT and PWT" (376pp) provides a comprehensive guide to the DECT and PWT standards. It includes basic protocol and implementation issues, advanced features and a wide range of applications. Published by Artech House 1998. By JA Philips & G MacNamee. ISBN 0-89006-872-0.
"Cordless Telecommunications in Europe" (304pp) - OUT OF PRINT - but may still be available via libraries. Predecessor to "Cordless Telecommunications Worldwide", this book describes the early development of cordless telecommunications, including the early pioneering work on CT2 and DCT900 in Europe in the late 1980's. Published by Springer Verlag 1990. Ed. WHW Tuttlebee. ISBN 3-540-19633-1.
Please tell us of any other good books we should include here that you've found helpful. Thank you.
---
Back to Top