Traffic and Community Statistics
During 2004 DECTweb traffic averaged >1,000 page views every day - data taken from our stats server, as at 18th December 2004.
Weekly Page View Statistics during 2004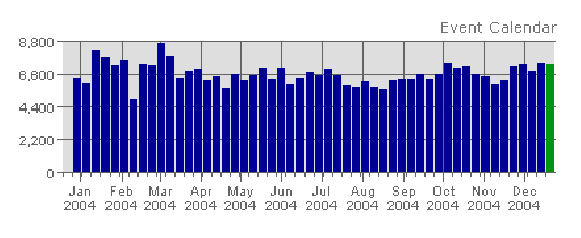 DECTweb went 'live' in September 1998, after a 6-month period of beta-trials. The website grew steadily and solidly in industry recognition and level of use by industry staff around the world. In 1999, it's first full year of operation, DECTweb received over 0.5 million hits. Traffic continued to increase substantially in 2000 and 2001, typically doubling each year. Despite the fact that DECT is generally seen as a mature technology, and despite the telecoms industry downturn of 2001-2003, DECTweb traffic has held up consistently and today has stabilised at around 1000 page views / day.
For >5 years now, DECTweb has been the de facto online resource for the industry.
Sustained traffic growth, industry support and community loyalty of DECTweb has been achieved primarily through word-of-mouth and industry relationships. At major industry conferences, such as the annual DECT conferences organised by IBC, we continue to receive unsolicited praise and gratitude from industry staff who regularly use the resource
DECTnews , our free-on-request subscription e-mail news service, is another part of the DECTweb community package. DECTnews is e-mailed to ~2000 self-subscribed members in > 50 countries, all of whom are self-subscribed members of the community - ie by definition people with a self-declared specific interest in DECT, many employed within the DECT industry. Such individuals submit news directly to DECTweb and are the source of some of the news we include on our news pages.
Take the Next Step...
To promote your company please e-mail us now. Tell us which sponsorship package you're interested in, e-mail us a suitable company logo, or animated gif file, and your brand can be up on DECTweb within days.
Back to
the benefits Back to

pricing options available