Press Release

Please e-mail us your company's press releases for inclusion on DECTweb
Thank you

5th February 2002

Atmel Introduces Industry's First 2.4-GHz DECT Non-Blind-Slot RF Transceiver IC for Voice and Data Applications



Heilbronn, Germany, February 05, 2002. . . Atmel® Corporation (Nasdaq: ATML) announced today the availability of a high-speed RF transceiver IC for DECT (see footnote 1) applications at 2.4 GHz. The T2802 is a flexible solution for a wide range of data and voice applications such as residential cordless phones, WPBX (see footnote 2), WLL (see footnote 3) and WLAN (see footnote 4). Along with Atmel's well-known Low-Noise Amplifier/ Power Amplifier T7024, it forms a complete RF system for 2.4 GHz DECT systems.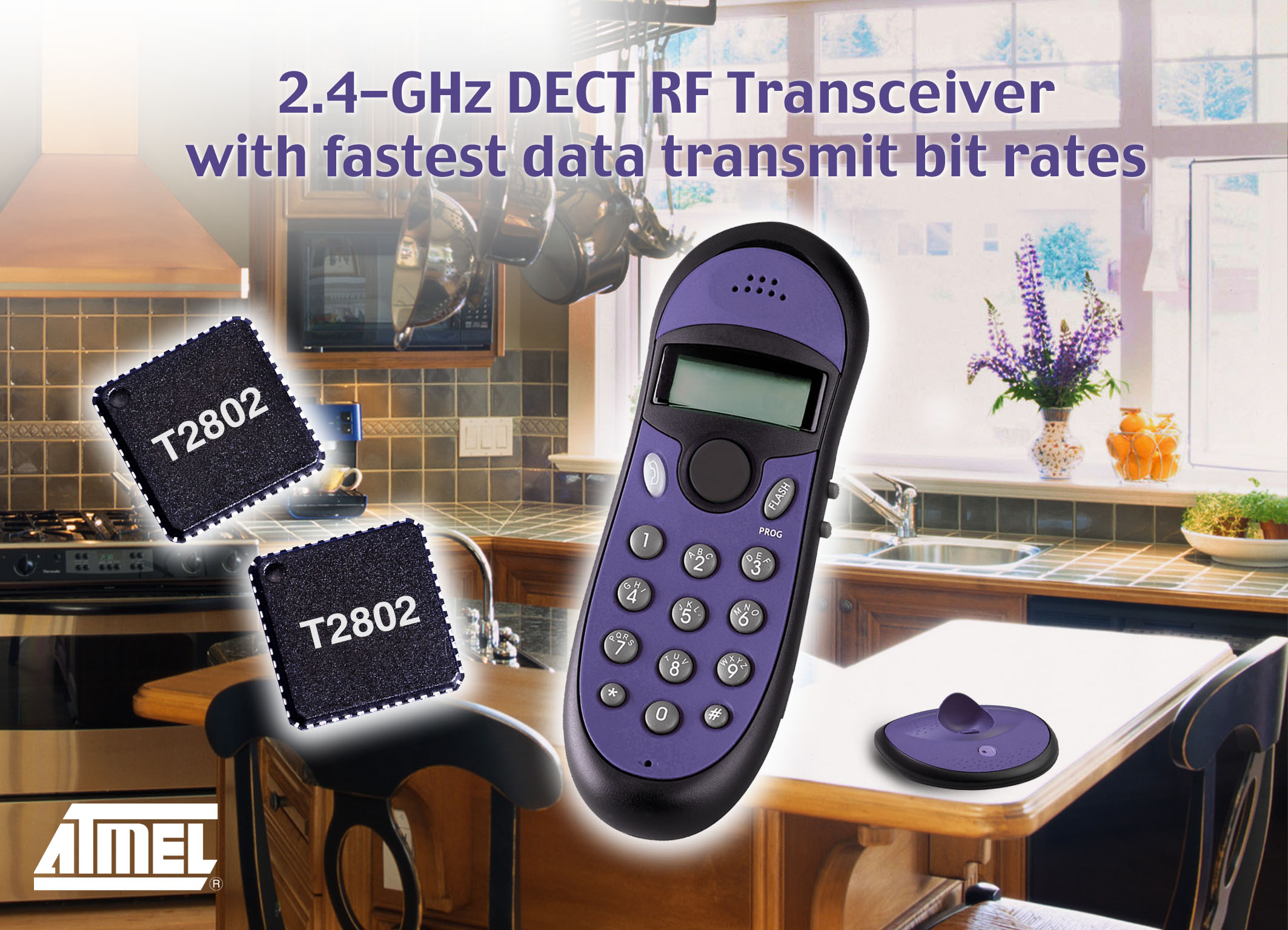 The T2802 includes image rejection mixer, IF (see footnote 5) amplifier; FM (see footnote 6) demodulator, baseband filter, RSSI (see footnote 7), transmitter amplifier; power ramping generator for the power amplifier, integrated synthesizer and Voltage-Controlled Oscillator (VCO). The on-chip Gaussian-shaped transmitter filter (with a modulation compensation circuit for advanced closed loop modulation) and a very fast phase-locked loop settling time (less than 30 microseconds) allows non-blind-slot operation, i.e. to use up to 12 handsets with the same base station. Moreover, this feature also enables industry's highest data transmit bit rates (1.152 Mbit per second) which is especially important for fast data download (wireless internet access) and fast data transfer to printers (WLAN).

"We are proud to announce with this new RF 2.4-GHz DECT transceiver a further step in high-speed digital wireless connectivity. The high data transmit bit rate will enable end users to load or send data faster than ever. Internet users will be especially happy to shorten annoying and costly download time. DECT phone customers will also enjoy the multiple hand set function that allows them to use more hand sets (up to 12) than with conventional solutions (up to 3)," said Ahmad Lindenberg, Product Marketing Manager Cordless Telephone ICs at Atmel.

The universal transceiver-to-baseband interface can be used along with any major DECT baseband IC since the transceiver is suitable for both 13.824 MHz and 10.368 MHz reference clock frequency.

A 4-bit D/A (Digital/ Analog) converter is available for pre-tuning of the VCO's center frequency to compensate for production tolerances of the IC. To achieve best performance on the receiving side, the on-board 5-bit D/A converter can be used to tune the demodulator. The DECT transceiver is completely alignment-free (i.e., mechanical tuning is not necessary).



The T2802 is designed to seamlessly interface with the RF front end IC T7024 manufactured in Silicon-Germanium (SiGe) technology. This simplifies the design, minimizes the number of external components and thus reduces production costs. The T7024 achieves an output power of +23 dBm/ 3 V at a gain of 25 dB. Its integrated LNA provides a very low noise figure (2.3 dB typ.) which together with the single-chip transceiver T2802 increases the overall sensitivity (typically -96 dBm).



Samples of the T2802 in MLP48 pin package are available now, high-volume production has started. Pricing starts at $9.30 (10 k) for the T2802 and at $4.93 (10 k) for the T7024.

footnote 1 = Digital Enhanced Cordless Telecommunications


footnote 2 = Wireless Private Branch Exchange


footnote 3 = Wireless Local Loop


footnote 4 = Wireless Local Area Network


footnote 5 = Intermediate Frequency


footnote 6 = Frequency Modulation


footnote 7 = Receive Signal Sensivity Input

-end-

About Atmel


Founded in 1984, Atmel Corporation is headquartered in San Jose, California with manufacturing facilities in North America and Europe. Atmel designs, manufactures and markets worldwide, advanced logic, mixed-signal, nonvolatile memory and RF semiconductors. Atmel is also a leading provider of system-level integration semiconductor solutions using CMOS, BiCMOS, SiGe, and high-voltage BCDMOS process technologies.

© Atmel Corporation 2002. All rights reserved. Atmel, the Atmel logo and combinations thereof and others contained herein, are trademarks of Atmel Corporation. Terms and product names in this document may be the trademarks of others.



Information


Atmel's Cordless Telephone IC/ DECT T2802 information may be retrieved at: www.atmel.com/acrobat/doc3c5935b8db229.pdf . Requests may be sent via e-mail to literature@atmel.com or by visiting Atmel's website at www.atmel.com.



Press Contacts
Ahmad Lindenberg, Product Marketing Manager Cordless Telephone ICs,
Phone: +49 7131 67-2343


Email: mailto: ahmad.lindenberg@hno.atmel.com



Dr. Susanne van Clewe, Marcom Manager Communications and Automotive Products,
Phone: +49 7131 67-2081
Email: mailto: susanne.van-clewe@hno.atmel.com
---
Please e-mail us your company's press releases for inclusion on DECTweb
Thank you
Back to Top