Press Release
Please e-mail us your company's press releases for inclusion on DECTweb
Thank you
18th March 2002

"Binatone MD 1500 clear winner in Europe-wide DECT survey"
Binatone's Micro DECT MD 1500 cordless took first place by a wide margin in the Europe-wide survey of DECT phones carried out by 'Connect' March issue, one of Germany's leading hi-technology magazines.
This innovative DECT telephone is packed with features such as caller display, built-in speakerphone and multi-functional backlit 2 line LCD. Nevertheless, the MD1500 was the second lowest priced unit in the test field.
The Connect review judged the MD1500 'a wonder device with excellent performance', and singled out for praise:
- 'The organised caller display which stores information on the last 30 calls.'
- 'The 40 name and number phonebook and 10 last number redial.'
- 'The exceptional performance of more than 250hrs standby and 36 hrs talk time.'
- 'Blue wonder: A trendy self illuminated display in this price category is not self evident.'
The Binatone MD1500 is available in single, twin and triple packs with interchangeable coloured fascia's.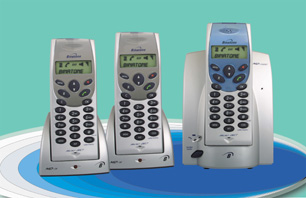 Exceptional sales performance
This latest Binatone triumph comes on top of exceptional recent UK sales figures. Last quarter (2001) figures from GfK, the leading European Market Research company, showed Binatone UK sales at No.2 overall position in analogue and digital telephony.

Dino Lalvani, Binatone Group Sales and Marketing Director commented on this latest news, "I am delighted that Binatone took No. 2 position overall at this busy time of year. I believe our investment in design and technological innovation struck a chord in the marketplace. In digital, our MICRO DECT mobile lookalike, complete with a host of features and available at an exceptionally competitive price, has enabled the consumer to buy into this new technology and is giving the landline a much-needed boost.
"DECT by value has now overtaken analogue, and our introduction of new, entry level DECT, will help expand the digital market over the coming year. These latest figures from GfK endorse our strategy."

GfK's latest figures also show that the fastest growing category by far is DECT multipack sales. Binatone was the first company to introduce multipacks over three years ago, and the company's innovative DECT range includes twins, triples and even quads, with the advantage of only one telephone socket required to run the whole system.
For further information on all Binatone's telephone range
Contact: John Collington +44 (0)1258 453277
Or Susie Donaldson: +44 (0)208 344 8803
---
Please e-mail us your company's press releases for inclusion on DECTweb
Thank you
Back to Top