Market Statistics

See also the Market Studies & Information Page for other Sources


On this page we provide market information on the DECT. This information is compiled from a range of public domain sources, including newsletters and other publications of the DECT Forum, information provided by manufacturers, papers presented publicly at conferences, etc.

We are also happy to include selected information from market research companies. If your company provide market reports relating to cordless telecommunications and you wish such data to be included on this page, please e-mail us, enclosing the relevant diagrams and spreadsheet data and giving specific permission for use - thank you.

DECT products shipped to date now exceed

120 million...
Source: DECT Forum Press Release, 2003
Industry Statistics

The graphs of annual and cumulative shipments below are derived from the latest figures released by the DECT Forum in December 2000. Perhaps the most fascinating thing to the analysts here at DECTweb is that the actual sales in 1999 and 2000 were 48.2million units, incredibly close to the forecast of 50million given by the DECT Forum at the annual DECT conference in January 1999, two years previously. Indeed, if the the problems with chip supply during 2000 had not occurred sales in the period would have exceeded their earlier forecast.
Source: DECT Forum,
December 2000 - figures to 2000 are actuals, 2001 onwards are forecasts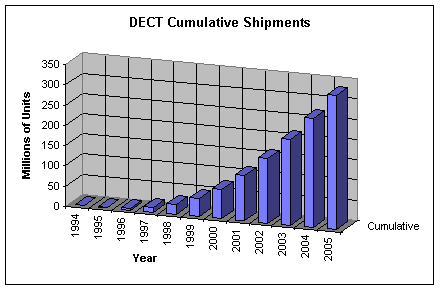 Source: DECT Forum, December 2000 - figures to 2000 are actuals, 2001 onwards are forecasts
Detailed Market Breakdowns
For more information on the DECT markets, please see the excellent and comprehensive presentations given by the officials of the DECT Forum at the DECT2000 and CeBIT2000 conferences, which contain a much more detailed breakdown by geographic region and by product type and applications for the years up to and including 1999. We hope to bring you further information soon which will be presented at the DECT 2001 conference in January 2001.
Please also see our Market Information page, for sources of market research studies
and our Global Page for what is happening across the world with DECT
As of January 2000, DECT was an accepted technology in over 110 countries, on 5 continents, with over 200 different DECT products available on the market (if you trawl through DECTweb adding them up, you'll probably find the figure is even higher by now).
Source: IBC's DECT 2000 World Congress
DECT as a proportion of the overall European Cordless Telephone Market - 1998
Figures reported at the DECT Annual Congress, January 1999 indicated:
* DECT is now the preferred cordless telephone technology across the overall Europe market, exceeding analogue sales, with some 53% of all cordless phones shipped being DECT technology.
* In the prime DECT market, Germany, more than 80% of all cordless phones sold are now DECT
* Even in the UK and France, where DECT phones sell at a significant premium to cheap analogue cordless CT0 phones, more than 40% of all cordless phones sold are now to the DECT standard
Back to Top